Designed by award-winning landscape architecture firm Surface678, the two-acre park will feature 31 of Vollis Simpson's whirligigs—including some of the largest in his life's work.  There are currently 16 whirligigs up in the air at the Vollis Simpson Whirligig Park, located at 301 Goldsboro Street S in Historic Downtown Wilson.
Visitors will never be at a loss for something to do at the Vollis Simpson Whirligig Park. A central lawn amphitheater where everything from music to poetry slams will engage audiences. The park shelter will host a Farmer's Market, educational programs, and family fun activities. Benches, tables and chairs invite picnicking, reading, or just enjoying art and nature. Use a phone app or the printed brochure to tour the whirligigs, sustainable storm water structure, and native plant gardens. Practice Tai chi, have a wedding or family reunion, play flashlight tag among the reflective whirligigs—the possibilities are endless!
Accomplishments To Date
Conserving the artwork
The Vollis Simpson Whirligig Park & Museum non-profit has developed pioneering protocols for conservation of outdoor vernacular sculpture with expertise from national partners Smithsonian Institution, National Parks Service, Philadelphia Museum of Art, and Tuckerbrook Conservation.  There has been documentation of each sculpture upon arrival along with the conservation process and an individualized maintenance schedule for each.
Involving the community 
The park was conceived originally with the help of over 400 people–including artists, youth groups and general population. They helped develop goals, drew plans, and contributed to the design of the park.  As this project has progressed a workforce training program was developed and implemented in partnership with Wilson Community College and other organizations to learn how to repair and conserve the whirligigs.
Developing regional and national awareness
In June 2013, Vollis Simpson's whirligigs were designated as the official state folk art for North Carolina. Whirligigs have already been in different museums and have been on loan before the creation of the Whirligig Park & Museum however, in the last year, two whirligigs are currently on loan to the State of North Carolina for the two I-95 Welcome Centers as the cornerstone of North Carolina Governor Pat McCrory's "Art That Moves You" program. There have also been many national magazines and several books that have written about Simpson and the detail of his work. Today there is over 25,000 tourists per year that visit the Whirligig Park and Conservation Headquarters from all 50 states and from countries around the globe.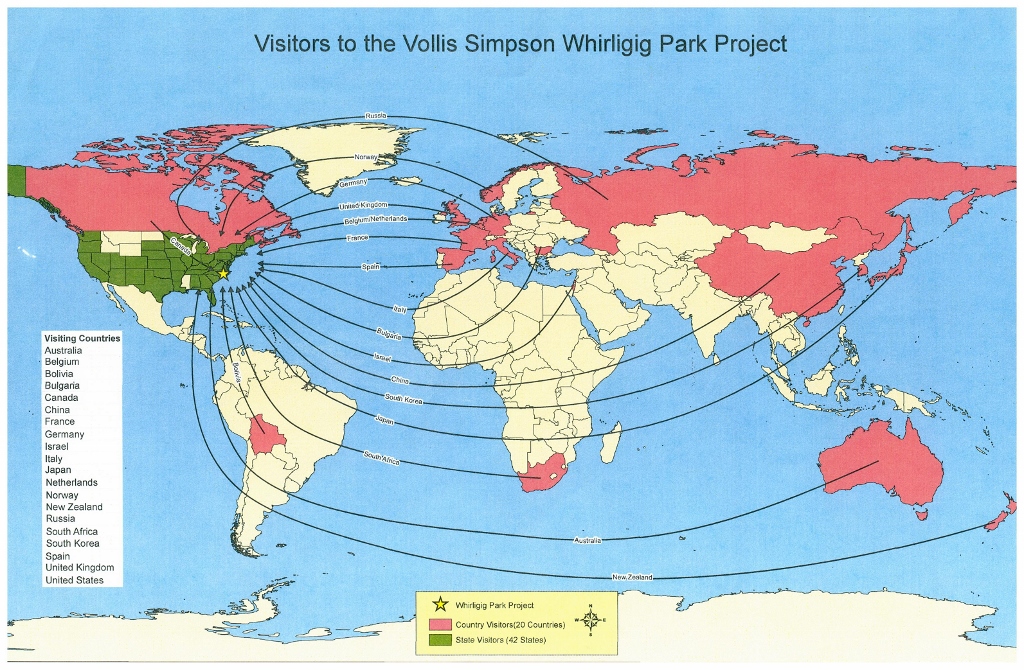 Wish you could see the whirligigs now? Email whirligigpark@gmail.com for information about touring Repair and Conservation Headquarters. Twenty-one of the whirligigs have been moved from Vollis Simpson's farm to a warehouse in Historic Downtown Wilson where they are undergoing state-of-the-art repair and conservation. The Conservation Headquarters offers a unique opportunity to see the artworks up close and personal at eye level rather than thirty feet up in the air. Or contact the Wilson Visitors Center for directions to the Simpson farm and Vollis Simpson's workshop: 252-243-8440.